Designer & Manufacturer of the Spirit of Women Robe and Exhibitor at Snowmass Institute
Women's Health Center Wear
| Our New Robe Needs A Name |
| Terry Cloth Robe | The Anne Robe | Long Anne Robe |
| Joyce Robe | Lorain Robe | Sue Robe | Tonya Robe |
| Oriental Jacket | Jennifer Exam Top | Cindy Circle Cape |
| Hillary Jacket | Design Your Own With Us |

---
What our customers have to say about Weberwear.....
"We have used all sorts of robes and this is the way to go. Our Weberwear robes have been in use for 6-8 years and still look fabulous." - Joyce Connolly, Elmbrook, WI., Women's Center Manager
"When a patient wear a Weberwear robe or jacket, it is manifested in the patient that we care. I am passionate about this." - Dr. Martinez, Newport News, VA., surgeon
"Weberwear robes give our patients a sense of security. The patient is warmer and doesn't hang out. It is a huge patient satisfier." - Fran Freeman, Grant Medical Center, Columbus, OH, Manager
---
The prices listed are discounted for quantities of 10 items or more of each garment. Fabric suitable for medical facilities and commercial laundries.
---
Our New Robe Needs A Name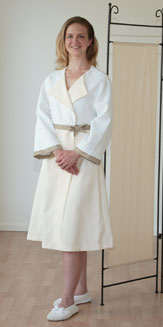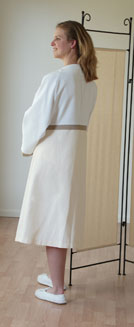 Our newly designed robe needs your name! You and your women's health center have an opportunity to choose this brand new design as your own. We will name the design after the nurse manager, ie: Joyce or Sue robe, or any woman's first name that is affiliated with your facility. An order of 250-300 robes would be acceptable to qualify.
This outstanding design is both retro and modern all in one! The empire waistline accented with a sewn-on contrasting tie, along with the A-line skirt creates a slenderizing silhouette. A fold-back collar adds the crowning touch, as well as a real sense of style and privacy. Call for color and fabric options.
Make it yours! Call us at 877-932-3726.
---
Terry Cloth Robe
It's not your traditional terry cloth robe. It is a velour terry cloth and has the WeberWear touch.



Sizes: One Size Fits Most, XX-Large

Due to the fluxuating price for terry cloth, please call WeberWear at 1-877-932-3726 for an up-to-date price quote.

Fabric suitable for medical facilities and commercial laundries.
Christy at a Wisconsin Regional Cancer Center says this:
"The robes are wonderful. They are comfortable and warm and have stayed 'fluffy' through the commercial laundry process." She has heard zero complaints from her patients. 11/11/05
---
The Anne Robe
Truly a classic and one of our most popular robes. Our pique three-quarter length wrap robe is both economical and a comfort to wear.

No more losing the ties on your robes. In this robe, the tie is sewn securely on the back in a rectangular pattern. Give your health center an attractive, distinctive look with these striking robes.

Also available with side seam pockets, and/or upper front privacy panels.

Colors: White, Ecru, & Sweet Mint
Sizes: S/M, One Size Fits Many, XXL, 4XL
WMH0 S/M The Anne Robe ($53.99)
WMH1 One Size Fits Many The Anne Robe ($55.99)
WMH15 XL The Anne Robe ($58.29)
WMH2 XXL The Anne Robe ($65.49)
WMH3 4XL The Anne Robe ($66.99)
---
Long Anne Robe
Create your own image by selecting the color of the robe and the coordinating color for the cuffs and neckband. This longer length Anne Robe is a full 45.5 inches from back of neck to hem. Additional inches may be added upon request.

Another wonderful WeberWEAR design.

Seen here in pique fabric, but other fabrics can be used to create your own image.

When you select this robe for your women, they will know you care.
Colors: White and Bone
Sizes: One Size Fits Many, XXL, 4XL
B50 Long Anne Wrap Robe ($65.99)
B55 XL Long Anne Wrap Robe ($68.50)
B60 XXL Long Anne Wrap Robe ($74.50)
B70 4XL Long Anne Wrap Robe ($78.99)
---
Joyce Robe
Pamper your women patients with our fabulous white pique robe. Designed with a classic front lapel and full raglan sleeves that taper slightly at the wrists.

The fully encased back tie is sown in, but allows the robe to be femininely gathered at the waist. The luxurious pique fabric not only wears well but is able to be washed commercially in warm water and cool fast dry.
Sizes: One Size Fits Most, XX-Large

B10 Pique Robe ($55.99)

B20 XXL Pique Robe ($62.49)

B30 4XL-5XL Pique Robe ($66.75)
---
Lorain Robe
The Double breasted wrap robe has delightfully long slenderizing lines and you can see immediately how special your women will feel when they "walk down your halls".

The fabric is used by designers and provides that special chic look and feeling you want your women's health facility to portray. The front snaps allow for adjustment in width within each size. The Doleman sleeves fit all types of figures generously.
This robe is listed as a "BEST BUY FOR THE MONEY" garment. Made from our well tested cotton blend pique, it comes in three colors: Sweet mint, ecru and white. All remain soft after many, many washings.
The Doubled breasted full length Robe
J5 S/M Lorain Robe ($52.99)
J500 L Lorain Robe ($52.99)
J501 XL Lorain Robe ($54.99)
J502 2XL Lorain Robe ($57.50)
J503 3XL Lorain Robe ($59.49)
J504 4XL Lorain Robe ($59.49)
---
Sue Robe
The classic, simple lines of this front snap robe make it especially nice for women�s health. The sleeves and body are roomy enough to fit most everyone comfortably.

The snaps keep the robe in place, providing privacy and dignity.

The robe comes in pique.

Sizes: Small or One Size Fits Many (Other sizing available on request)

Pique Colors: Pink, Mint, White and Bone

J450 Small Pique($52.99)

J550 Large Pique ($54.99)
The Sue Robe is also available in a short hip length jacket.
Pique Colors: Pink, Mint, White and Bone
J800 One Size Fits Many Pique Jacket ($50.49)
J801 XL Pique Jacket ($54.99)
---
Tonya Robe
Description:

The Tonya robe is an exclusive design, just for you, and only for you.

The robe creates a feeling of luxury and pampering through simple, high style and fabulous fabric. The robe's long, slenderizing silhouette will leave your patients with a sense of their dignity and your caring.

The robe itself is belt-less with a gentle flow of fabric that builds to the hemline. The front invisible closure leaves only the long, straight lines for the eye to follow. The elegant pique fabric displays a clean and crisp picture. The contrasting colors in the collar and cuffs reflects the pure simple lines of this robe.

Pique colors: white, creme, and mint.

IA. The Tonya robe, size large ($55.99)

IB. The Tonya robe, size small ($53.99)

IC. The Tonya robe, size 2XL ($59.99)

IE. The Tonya jacket, size small or large ($51.99)

IF. The Tonya jacket, size 2XL ($54.99)

For a limited time, the Tonya Robe and Jacket will be available in Lavender Waffle Weave. Supplies limited call for details.
---
Oriental Jacket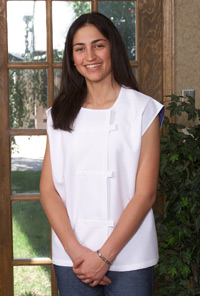 The Oriental Jacket is reminiscent of the very popular Mandarin jackets that we see. The frog like closures on the front of the jacket add charm and grace. Our jacket is so popular that it is hard to tell it is a medical garment. When patients where this jacket they associate comfort and dignity with you facility.

Made of a cotton blend pique, it is both luxurious and long wearing. The inside collar and cap sleeves are lined with the color of your choice to differential between sizes at a glance. The 100% safe plastic snaps are guaranteed for the life of the jacket.
Sizes: M/L, 1XL, 2XL, And 4XL
BD00 Small Oriental Jacket ($41.99)
BD10 M/L Oriental Jacket ($44.99)
BD20 XL Oriental Jacket ($44.99)
BD30 2XL Oriental Jacket ($48.49)
BD40 4XL Oriental Jacket ($50.99)
---
Jennifer Exquisite Exam Top
If you want to make a statement of elegance in your office you will want to select this gorgeous, long wearing silky exam top. It is made of 100% polyester. The boat neckline slides easily over the head. It snaps under each arm for privacy and dignity, allowing easy access for exams.

Easy to launder, simply machine wash and dry (cool-warm heat). No ironing required.

Size: One Size Fits Most

TOP1 Boatneck/side snap/exam top ($36.99)

Price may vary with fabric choice.
---
Cindy Circle Cape
Call for sample. Picture not yet available.

The cape is a complete circle which snaps down the front with a jewel neckline. Very effective for use with mammograms.



Size: One Size Fits Most

CCC10 Poplin Cindy Circle Cape ($30.99)
---
Hillary Jacket
Simply comfortable and wonderfully charming. This women's health jacket is a winner.

You can snap the snaps in several different places, thereby allowing the jacket size to change to fit a variety of people. The plastic snap caps have several receiving beds to choose from. Allowing for different sizes in one jacket. The 100% plastic snaps do not show up on X-Ray.
Sizes: One Size Fits Most

Available in Pique Colors: Pink, White, Mint, and Bone

J500S Pique Doleman Sleeved Jacket with snap closures($50.99) (Not Pictured in this fabric.)

J450S Pique Doleman Sleeved Jacket with ties($53.99)


---
DesignYour OwnWith Us
WeberWEAR will design garments to meet your specific needs. Each design is crafted with your input by an experienced Registered Nurse. Color, fabric, and price can be altered to meet your needs. Call for more details and a free estimate.
---
Fabric suitable for medical facilities and commercial laundries.
To order call toll-free 1-877-932-3726.
---
Prices listed are wholesale prices for 10 or more of the same color and same item number. Fabric suitable for medical facilities and commercial laundries.
---
Recommendation
After using both terry cloth and WeberWEAR Pique Robes ..."the staff agrees, they will definitely replace the terry robes with WeberWEAR Pique on their next purchase." -- Joyce Connolly, Manager of Women's Health (Milwaukee Area)